If you're shopping for a family this holiday season, particularly a new family, have you considered going the personalized gift route? Now don't get me wrong – I tend to think personalized gifts can be a little cheesy, but cheese is in at this time of the year!
One such shop specializing in personalized gifts is the Personalization Mall.
Being an online mall full of personalized items, they have SO MANY items from which to choose!
I think this Old Fashioned Folk Art Personalized Wood Sled is so cute.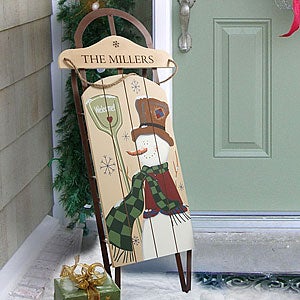 It's a little pricey at $65.95, but as a family gift, it's not too bad. Also, snowmen are something that can be displayed all winter, and not just through the end of December, so it's a little more versatile.
I've never seen stocking holders quite like this Personalized Brass Photo Stocking Holder. I absolutely love this idea!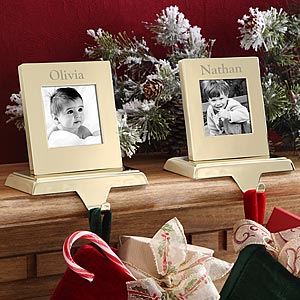 Each stocking holder costs $29.95.
Another gift idea for a new family just beginning their own Christmas traditions could be this Winter Wonderland Personalized Tree Skirt: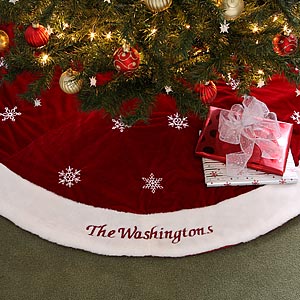 This skirt costs $69.95.
What's nice about holiday-themed personalized gifts is that they can be used year after year. These gifts will become part of holiday traditions and treasured perhaps more than other gifts.
Lacey Bean from Perks of Being a JAP just left a comment that with promo code THANKS127 you can receive 20% off your order at PersonalizationMall.com, plus free shipping on orders over $75. Thanks so much for the tip!!!
Another online store I enjoy perusing is Personal Creations.
Personalized Creations has a great assortment of personalized ornaments. (Go figure, right?) This could be a good, less expensive gift for someone special. I think this Single Head Ornament
would be cute as a "baby's first ornament":
They also have a LARGE assortment of ornaments such as this Cheerleader Ornament
.
These ornaments are just $12.95 and are fun because you can personalize them by gender, hair color, etc. Plus, they have them not only for kids and teens, but for many professions and interests, as well.
Here's something fab about Personal Creations: They have a large number of coupons available to help you save even more money on your purchases! Here's the ones I found that are currently available (all coupons expire December 31, 2009):
Save with Free Shipping on any order of $59 or more.
Enter promo code AF0927 at checkout.
Save 15% off any order of $59 or more.
Enter promo code AF0928 at checkout.
Save 10% off any size order.
Enter promo code AF0933 at checkout.
Save 20% on an order of $75 or more.
Enter promo code AF0935 at checkout.