Beginning today and lasting through December 13, 2009, Banana Republic is taking 20% off any purchase of $100 or more! Just enter promo code BRGIVE20 at checkout.
I haven't been shopping (or online window shopping) at Banana Republic in awhile, so I decided to pop over and see what they were offering. Of course, I fell in love with the first item I saw. (And perhaps this is why I haven't visited the site in a while, eh?)
I can picture myself in this Button Textured Pullover in Gray heather
for the rest of the winter:
Le big sigh. It's not at all a steal at $98. However, if there's a $2 item somewhere on the site (ha!), the price of this sweater will quickly drop 20%!
I decided to direct myself to safer territory (the sale section) and found this very lovely Flutter-Sleeve Wrap Dress in Light Gray Heather
for just $59.99: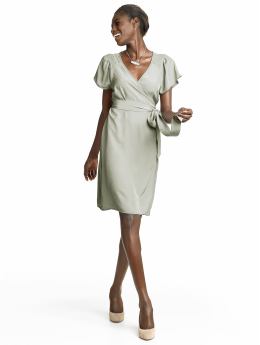 The original price of the dress was $132, so that's already a pretty healthy discount.
Oh, Banana Republic. How I love you. But why must you tempt me so?