Woo hoo! More sale codes from the Gap!
Now they're offering 25% all items that are already on sale. This is the best kind of discount, right? Sale items made cheaper. Awesome.
To receive the discount, enter promo code GAPSALE25 at checkout.
Let's take a quick look at what's available, shall we?
I have been in love with this Smocked Silk-Blend Shirt
ever since it was released: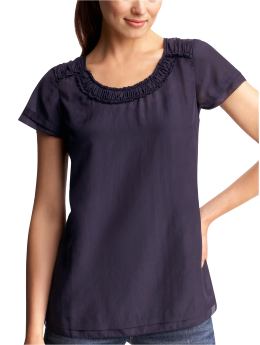 It originally sold for a too-high $49.50, but it's currently on sale for $17.99. The extra 25% would bring the price down to just $13.49. Those are my kind of numbers!
All of my clothes are pretty basic, so this Perfect V-neck
would fit right in:
You know what else would fit in? The price. These T's originally sold for $18.50, but they're currently on sale for just $6.99. After the additional discount you'll pay just $5.24. You can't really beat that price for clothes from the Gap!
Click here to go directly to the sale section of the Gap.
The 25% discount on sale items expires November 24, 2009.