I'm a little late posting this due to my absenteeism yesterday, but for the next two days you can take an additional 20% off everything at the Gap Sale!
Just enter promo code EXTRA20 at checkout to save the additional 20%!
There are so many good things at this sale, even though many of them are pretty much unwearable until next Spring/Summer. (Well, unless you're lucky enough to live in a warm-weather state…which Illinois is definitely NOT.)
I plan on scooping up these Poppy bow ballet flats, which I've had my eye on for awhile now: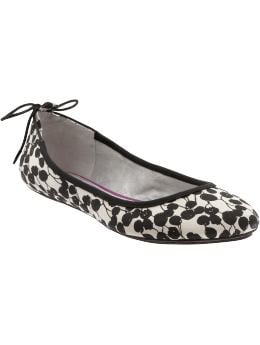 The shoes originally cost $39.50. The sale price is $24.99. The extra 20% discount brings them down to an even $20. Not too shabby!
Hurry – additional discount code can only be used through September 25, 2009.