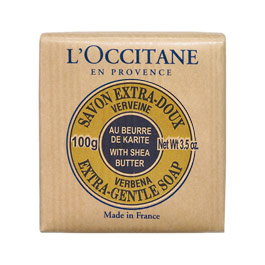 I was approached last month with an opportunity to try out L'Occitane en Provence Shea Butter Verbena Soap. I was a little apprehensive at first about trying out a soap because I have extremely sensitive skin. I have tried so many different soaps, cleansers, creams, etc., over the years, almost always to poor results.
But this soap, the first L'Occitane product I've ever tried, is simply amazing! It's a pure vegetable soap made with shea butter.
First things first though – before I ever tried the soap I was struck by the amazing scent. The soap just smells so … clean. And it's not a manufactured clean scent – it's earthy and refreshing.
I was in Hawaii this summer and there was a tiny little flower that I fell absolutely in love with. I took many many pictures of these flowers, but never took the time to figure out exactly what it was. Crazily enough, Wikipedia just told me that was a verbena flower, which also happens to be one of the ingredients in this soap!
Now for the soap – when I use it I feel as though I am slathering my hands in lotion, which I attribute to the shea butter. Though it's a soap, after I use it my hands feel soft, smooth, and moisturized.
Now the big question: Would I actually buy this product? Yes!
I've been using this soap for over a month and it's still going strong. (I am just using this to wash my hands, not as a shower product.) I love the way the soap makes my skin feel. L'Occitane products are a bit on the pricey side, but as someone with such sensitive skin, I think it's worth paying a bit of extra $$$ for smooth and moisturized skin!