I think one of the best things I have discovered in my adult life are points/miles rewards programs. In order, I am loyal to the following programs:
Marriott Hotels
United Airlines
American Airlines
Hilton/ Doubletree Hotels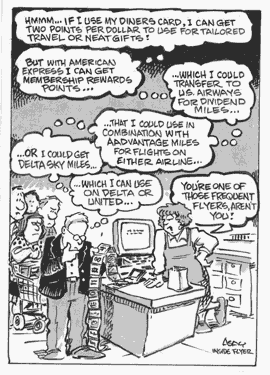 You can be loyal to any program that suits you, but I urge you all to become a member of *any* free rewards programs. Here's why you should be a rewards member and not just book travel through sites like Priceline and hotels.com:
First, and this is a big one: Priceline is not always cheaper than booking directly with the hotel itself. Sometimes it is, sure, and I admit to using Priceline myself on occasion. But unless you're getting a remarkably good deal (such as 50% off), keep looking – I bet you'll be able to find a similar price on a points-friendly site, such as Expedia or Orbitz or the hotel's own website. The big downside to Priceline? You cannot accrue any points/miles when you use the program.
Right now Hotels.com is boasting "Stay 10 nights and get 1 free." I laugh each and every time I see this commercial. You can get a free night at a Marriott hotel for as little as 6,000 reward points, or about $600 in hotel stays. Yes, $600 is a bit of money. But chances are you are spending close to that with your 10 nights at Hotels.com. Plus, at Marriott you'll receive a completely free fifth night's stay if you stay the previous four nights using your reward miles. By comparison, at Hilton hotels, a free night will cost you 7,500 points.
Special Promotions, Special Promotions, Special Promotions! Earlier this summer, Marriott had a promotion that I only found after logging into my Marriott Rewards account. If I stayed 2 nights at any hotel, I would receive a voucher for a free night at any Marriott hotel on any date. The free hotel night came in very handy when I was on my roadtrip earlier this summer. I redeemed the free night for a pricey Atlanta hotel – score!
When you are a member of a rewards program, I've found the customer service cannot be beat. My boyfriend and I were planning a weekend trip to Milwaukee, and found two conflicting prices for the hotel where we wanted to stay – the Marriott price was about $25 more expensive than the price on the other website. I called Marriott to report the price difference and we ended up receiving a 25% discount off the LOWER price. (Note – this does NOT work with Priceline.)
In terms of airline miles, the number one reason I like to remain a loyal customer is for the free flights! I live in Chicago, a hub for United Airlines. For the most part, I can get pretty much anywhere on United and I try to fly it whenever possible. As a result of my loyalty over the past 4 years, I have earned approximately 6 free round trip flights.
If the airlines ranked such a thing, I would probably be considered a moderate traveler. I don't fly constantly, but I fly enough. As such, I have not attained the status of some of those super travelers (you know, the people that get to board the aircraft first). However, I do have enough *seniority* that I've been upgraded to first class not once, but twice.
If keeping track of airline miles isn't your thing, Southwest makes the process simple – for every 8 round trip flights you take in 24 months, you'll receive a free round trip flight.
You can still use discount sites and receive your points/miles. Expedia, Orbitz, Cheapoair.com, and Cheaptickets.com are just a few of the sites where you may be able to find discount flights and/or hotels, but still receive your points/miles.
There is absolutely no reason that anyone should ever stay anywhere without receiving some sorts of pionts/miles in return. The options for free nights/flights/upgrades are endless.
Please share – what's your favorite rewards program?