There are just two things I cannot live my life without at this point: email and my GPS. Pretty much the only time I am not checking my email is when I'm sleeping or with friends. While I'm not quite as attached to my GPS, it certainly has made life a heck of a lot easier. (Except in Milwaukee, a city with roads so confusing that neither maps nor GPS units are helpful.)
I know that GPS units are at the top of many of your wish lists this year, so I thought I would share that for the next couple of days Overstock.com is taking instant $10-$20 rebates/discounts off of many Garmin units. While none of the units drop below $100, these are priced pretty good considering that you're getting a Garmin!
Here is one of the cheapest models included in the sale (price-wise), the Garmin Nuvi 205 3.5-inch Portable GPS Navigator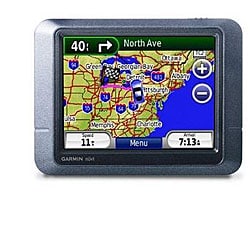 With the Overstock.com $10 instant discount the price is brought down to $109, which is about $20 cheaper than the same version at Amazon.
Of course, if you're looking for a more expensive model Overstock is more than happy to help you out! Click here to check out all of the discounted Garmins.
Offer expires October 7, 2009.