Day 9: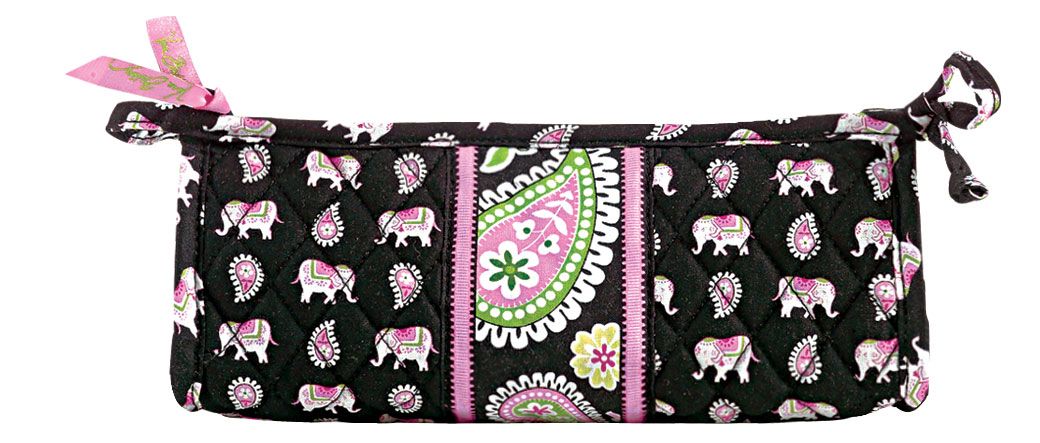 The winner of today's giveaway will win a lovely Vera Bradley cosmetic case covered in little pink elephants, which is one of Vera's retiring patterns. (The formal name? Vera Bradley Pink Elephants Small Bow Cosmetic Bag.) The inside of the bag is lined in waterproof nylon, meaning this bag will be super easy to clean. This bag may or may not be stuffed with a few *surprise* items!
The Fine Print:
Please note: If you plan on posting about 31 Days of Giveaways on your own website, please do so before filling out this form. You will need to provide a direct link to the giveaway.
Entries will ONLY be accepted by completing the Google Form below. No entries will be accepted via the comment form. This will help keep things organized and fair.
We're going to switch things up a bit – this giveaway is ONLY for "Followers" of Fantabulously Frugal. Everyone who enters who is a follower will get 1 entry. Plain and simple. (If you "follow" this blog via a reader but never actually hit the "follow" button, please indicate that. I will take your word for it.) If you enter this giveaway but do not "follow" this site, your entry will be considered invalid. (Don't worry – we will go back to our regularly scheduled all-inclusive programming soon!)
Aside from posting the name provided to me by the winner of each giveaway, as well as the winner's website's address (if you so choose), no information you give me will be shared or published anywhere. You will not be put onto any email lists. Pinky swear.
Entries will be accepted from the U.S. and Canada only, please.
This giveaway will open at 12:01 a.m. CDT on May 9, 2009. Entries will be accepted until 11:59 p.m. CDT on May 13, 2009. A winner will be announced on May 14, 2009.